Spring Activities
Spring is in the Air!
10 fantastic places to stay for a restorative break in the Northeast from wonderlusttravel.com
By Lukas Harnisch and Bob Guccione Jr.
Finally, good riddance to an historically crappy winter in the Northeastern U.S.! Actually, a pretty horrendous and record-defying winter across the whole country, but we in the Northeast like our traditional end-of-winter bellyache about how bad we had it, and how staunchly we survived it. So let's start here.
When you live somewhere that has the pronounced four seasons, you tend to view spring as a bridge. A pleasant one, one that seems to begin later every year, and is invariably cut into by a last few, spiteful winter stabs, but a sort of clean up time between the ravages of the cold weather and the bliss and longer lit days of the warm. We even refer to "spring cleaning" — apparently some sort of ritual whereby people get rid of stuff they don't need and clean and air out the whole house. In six and a half decades on the planet I've never actually seen anyone do that, but what a charming myth!
But spring, especially this one, after a year of pandemic horror and repression, is particularly a good time to get up and move a bit. Perhaps not far, perhaps only very close, locally. But off your street! So here are ten great suggestions (if we do say so ourselves — we do) of wonderful hotels and inns to get lost in for a few days!
I mean, what, you were going to stay home and clean?
Bob Guccione, Jr.
The Blue Fox, Narrowsburg, New York
This is a magical place. Three years ago new owners Jorge Neves, Meg Sullivan and Paul Clarke bought a dilapidated, long closed motel, which had once been a boy scouts and hunters camp, and turned it into a luxury but country-casual boutique hotel, transforming the rudimentary cabins and rooms into exquisite suites and spacious, airy rooms. And they created, in what had been the main lodge, the best restaurant in at least a 50 mile radius. The Blue Fox is glorious fun. Beautifully rendered, comfortable and luxuriant, and so time-stretchingly peaceful, largely because of the wonderful, idyllic pocket it sits in, on a hill bordered by rising forest, where the sun drapes the whole property the whole day.
There's plenty to do besides lying by the pool with a drink in your hand — although, let me be crystal clear, that's about as fine an activity as there is on this great earth, and I do speak from experience. You can go axe throwing for instance. You can hike the gorgeous landscape along the 10 Mile and Delaware Rivers, and go kayak and canoeing too. And if you like archery, you can get lessons, on property, from an international champion, Larry Weiss.
bluefoxmotel.com
The Spring House, Block Island, Rhode Island
Thirty-three and a half miles off the coast of Rhode Island, a little over an hour by ferry, Block Island is one of America's best kept vacation secrets. It's more rustic and plain and less snooty than the more famous and glamorous Nantucket, Martha's Vineyard and Cape Cod. Therefore it is in many ways better. It is beautiful and dramatic and just clean — the streets are clean, the air is clean and the landscape is sweeping and fresh. And the crown jewel, sitting on the top of the hill above the harbor, is the classic, magnificent and spaciously-situated, 170-odd year old Spring House Hotel.
The rooms of the hotel are plain but you simply, simply do not care. The ocean facing dining room is ancient and now only really used for weddings, but the actual restaurant is the best on the island and one of those rare places where you could eat, and drink, every night and not be bored or sorry. And the hotel-wide porch is a glorious spot to lounge and watch the sun set. Or rise. Or just wander across the sky. When not lounging, walk down the hill and stop at North Light Fibers, for exquisite, hand made wool products, attached to a part llama farm, part small zoo. Walk around the harbor, be a tourist, get lost in the mindlessness of that. For a bit of beach and a great, sprawling bar, go to Ballards at the edge of the Harbor. But only stay at the Spring House.
springhouseblockisland.com
Hotel Fauchere, Milford, Pennsylvania
The current hotel was built in 1880 by Louis Fauchere, famous for being the first modern chef in America, and for inventing the menu. His family owned it until it finally closed in 1976. In the early 2000s, New York based magazine publisher Sean Strub bought the property and lovingly — in this case there really is no other word — restored it so that it retains all the charm of a grand, Victorian-era country hotel, and the sleekness, warmth and quality of service of a five star modern property. The hotel is elegant but comfortable, and the grander of the two restaurants, the Delmonico Room, is superb, although only open Thursday through Sunday nights. The front porch is another dining option, with a simpler but still great menu, and on warm days and nights it's a fine place to eat and drink slowly and watch small town Pennsylvania go about its business.
Milford is the birthplace of the modern American conservation movement and the innate prizing of nature permeates the town and surrounding area. There's world class hiking around here and spectacular waterfalls, all within ten minutes drive.
hotelfauchere.com
The Lodge at Woodloch
This spa and hotel is no secret — it regularly tops lists of best spas in America. Better, it justifies the now ingrained hype. It's deliciously indulgent, and thankfully a place that focuses on beating the stress out of you rather than calories. Done right, you'll put on weight while you're there. It would be a shame not to. The food is all locally sourced and organic and meticulously prepared, and as good as a top Relais & Chateaux in France.
The activities range from serious exercise to seriously relaxing massages and body treatments. You have to book a minimum two days, which, we say from experience, is smart because that second day/night is the payoff. You leave reluctantly. You immediately wonder when you can go back. (Of course, you don't have to leave, unless they ask you to, in which case you will have done something wrong and we will discreetly look the other way…)
thelodgeatwoodloch.com
Portland Harbor Hotel, Portland, Maine
Maine is mostly known for its wilderness, but Portland is chock full of entertainment, and it's no wonder that tourists flock to it during the summer. Spring is a perfect time to visit, the Summer crowds aren't yet there so booking things is easier, restaurant waits are shorter, and you won't have to dodge the selfie sticks, khaki shorts, and visors. Like everywhere else in New England, the locals are high off the springtime thaw, but not yet inundated by the constant flow of needy sightseers. Portland Harbor Hotel is in the perfect location to experience everything the harbor city has to offer. Just a block away from great seafood on Commercial Street. For the beer lover's, Allagash Brewing Company is only a 15 minute drive away. Make sure to grab breakfast at Local Sprouts Co-op, a great little spot with locally sourced dishes and a cozy vibe.
portlandharborhotel.com
Ocean House, Westerly, Rhode Island
It's easy to overlook tiny Rhode Island, but don't let Westerly pass you by if you're looking for a quintessential northeastern coastal time. There's a reason Taylor Swift owns property in the area. The beaches are beautiful, and just walking around the envy-inducing neighborhoods is entertaining. Ocean House is a stately hotel right on the coast, and one of the truly magnificent, old school hotels in the US. With gorgeous views of a picturesque New England lighthouse, it is within walking distance of multiple beaches and Napatree Point Conservation Area. Head downtown for some peaceful outdoor dining by the river at Bridge Restaurant, and then grab beers at a pinball themed bar at Flipside Pinball Bar.
oceanhouseri.com
On the River Inn, Woodstock, Vermont
When you picture Vermont in your mind's eye, you're probably picturing Woodstock (although not that Woodstock). This little village has been drawing leaf watchers for eons, but spring is also an amazing time to visit just because the town and surrounding wilderness are absolutely anything you could want out of a restorative vacation. The little bustling main street is like a trip back into colonial New England, but the shops and restaurants are upgraded with plenty to offer, from artisan coffee to handcrafted flannels. On the River Inn is the perfect portal with access to both the village and the surrounding hiking trails and characteristic adorable covered bridges.
ontheriverwoodstock.com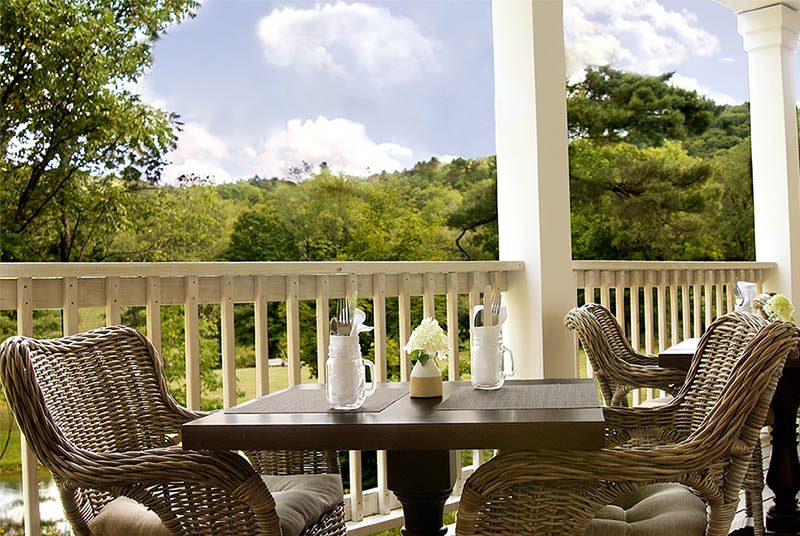 Tourists, North Adams, Massachusetts
The Berkshires have long been known as a retreat for artists looking to escape the hustle of Boston and New York. For good reason too, there is a supremely quiet ethos to the forests and winding roads of the area. North Adams is a perfect distillation of the Berkshire personality. It's home to Mass MOCA, one of the best contemporary art museums in the nation, and Tourists, a reconstructed and re-imagined former motel, is the best hotel to compliment that. As we've written about before, [ LINK TO OUR ARTICLE ] it's a hotel for artists by artists. Situated in the wilderness, the rooms beautifully reflect the surroundings with plenty of natural light and materials. It also provides convenient access to miles and miles of hiking trails including sections of the Appalachian Trail.
touristswelcome.com
Lands End Inn, Provincetown, Massachusetts
We can't leave out the Cape of this list! The curled peninsula of Massachusetts is a coveted destination for a reason. The beaches are supreme, of course, but there's plenty more to see. Provincetown is a lively town all the way out on the tip of Cape Cod, with a storied history as a sanctuary where LGBTQ folk partied it up and felt safe. Lands End is the fittingly quirky and decadent place to stay here. Right in the middle of everything, offering great views of the Atlantic. You can take the ferry from Boston — driving can be an ordeal — and soak up the springtime sun on the beach, or catch one of the famous drag shows downtown. It's a great place for a bike ride: hit the Provincelands Trail for a cruise through beautiful dunes.
landsendinn.com
Sagamore, Bolton Landing, New York
This resort on an island in Lake George is the best place to stay in the whole area. The Victorian decor and the occasional old fashioned steamboat is guaranteed to transport you back to the 19th century. But don't worry, amenities are modern and plenty luxurious. The town's biggest appeal is its close proximity to both the Adirondacks for superb hikes, and the eponymous lake for all the typical lake-faring activity, plus the less typical steamboat cruises. And of course, along with that comes a high concentration of delightful local breweries and farmers markets.
thesagamore.com